Imagine a wedding reception that captivates guests and runs flawlessly. One that comes with an impeccably organised host who'll make all the announcements, keep your perfectly planned celebration on track AND entertain your guests with mind-blowing magic along the way.
Intrigued? Find out more or get a no-obligation quote now!
Rated 5/5 by 350+ Reviews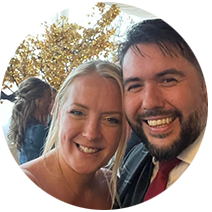 "Wow, how did you do that, he is amazing, never seen anything like that before, is all I heard from our wedding guests. Andy you where truly FANTASTIC you made our day just that little bit more perfect, 100% recommend such a nice, friendly approachable guy, you went above and beyond thank you so much for being part of our wedding day"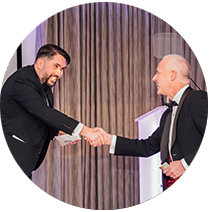 "Absolutely incredible, our attendees were astounded, and I've never experienced such captivating hosting – these were the reactions from our corporate event guests. Andy, you were truly EXCEPTIONAL, adding that extra touch of brilliance to our charity function. I wholeheartedly recommend Andy for his warm, engaging, and dedicated demeanor. You exceeded our expectations."

Incredible Wedding Entertainment, Corporate Entertainment and Close-up magic!
How can you guarantee an INCREDIBLE and UNIQUE wedding day experience? 
Are you able to make sure everyone at your event will be absolutely blown away and entertained?
Do YOU yourself want to be entertained and totally free to enjoy your own wedding day?
North East Magician Extraordinaire
Wedding Entertainment | Corporate Entertainment
Andy is not just a North East magician, he also works his magic throughout the UK and beyond.
With stunning close up magic, captivating hosting and his incredible live stage-show, Andy will deliver where many other magicians and entertainers fall short!
Check out the reviews below and DON'T SETTLE FOR LESS!


"Andy is an amazing magician, even guests who were sceptical were astounded by his amazing close-up magic tricks. As well as being a fantastic entertainer, he is a genuinely gracious and friendly person, was an absolute pleasure to have him performing on our big day!"
"Andy was amazing to watch. He left the guests amazed and stunned with his close up magic. In fact, because of Andy a lot of our photographs have provided many a laugh due to the shocked looks on our guests faces. He also made sure he took my wife and I to one side to perform for us to make sure we didn't miss any of his magic. He definitely went the extra mile."
"Once again no one could fault you. Extremely professional but very fun! It's obvious you know how to interact with different varieties of people, you were great with everyone. You obviously got people talking. What a magician! Thanks again!!"
"Andy was such a brilliant Magician-he had the whole wedding party taking about how amazing his tricks were including all the children with close-up magic! Would definitely recommend him and so pleased we found him!!"
"Almost four weeks after our wedding and Andy is still one of the key things our guests mention! He was professional, courteous and had time for everyone... Plus, he came to our house to meet our children before the wedding and show them some tricks up close! Hire him!"
"No really, thank you! You were fantastic, the feedback I received was phenomenal… I will certainly recommend you to all!"
"I used Andy for a private awards ceremony I held, and what a fab guy he is! Amazing tricks, great with our guests! On the business side he is very efficient and nothing is too much for him. I will definitely use him again and will recommend him to everyone. Thank you again Andy!"
"Andy performed at our charity ball last week for 170 guests. We have had nothing but good feedback from attendees and would highly recommend him for event entertainment and parties. Communication prior to the event & booking process were both great. Very easy to reach via email and by phone! Thank you!!"
"Lovely pleasant man, entertained every guest, his magic was mind blowing. He goes the extra mile to make your day amazing. Nothing is too much trouble for him. Great value for money. People are still talking about how fantastic he was. He helped make our wedding a magical day."
Don't skip past this!
These blogs are packed with tips, quality information and top-notch advice from wedding entertainment ideas to arranging party and corporate entertainment and much more!