The timings of your day can be pretty tricky to judge, especially if you're not used to organising big events! Obviously, each person's day is slightly different but hopefully this will give you a great starting point and a clearer picture in your mind of a typical order of a wedding day. I've also included some top tips that will come in handy.
What time you start this is going to depend on a few things:
– How many people have got to get ready.
– How complex your hair and makeup is.
– Have you prepared things in advance?
– What time the ceremony is due to begin.
– How far away from the location of the ceremony are you?
– Are you having photos of the preparation?
Communication is key. If you are getting someone in to do hair and makeup, use their expertise. Ask them how long it will take (as a general rule, allow a couple of hours for your hair and make-up and an additional 45 to 60 minutes for each member of your wedding party)
Take the start time of your ceremony and work backwards. Factor in travel, getting your dress on (this can take longer than you imagine so give yourself at least 30 mins!) and timings from your hair and make-up artist. This will give you a rough idea of your starting time!
Andy's Top Tip
–
Factor in some extra time for enthusiastic bridesmaids that will take longer to get ready than they expected and don't forget to have breakfast and something to eat a bit later too. Couple of glasses of fizz, mixed with excitement and all the other emotions, the last thing you want is to feel faint or unwell!
What time should people arrive? This is just a guide to give you an idea:
– Groom, Best Man and Ushers – 45 minutes before the ceremony.
– Guests – 30 minutes before the ceremony.
– Groom's parents – 15 minutes before the ceremony.
– Mother of the Bride and Bridesmaids – 10 minutes before the ceremony.
– Bride and Father of the Bride – 5 minutes before the ceremony.
How long will the ceremony take? This will depend on the kind of ceremony you are having!
Civil Wedding / Partnership – 30 to 45 minutes.
Religious Ceremony – 60 to 90 minutes.
Remember, communication is key. If you are unsure just ask the people performing the ceremony!
Andy's Top Tip
–
If you are having photos taken at the ceremony (for example a confetti shot as you leave the venue) don't forget to factor this extra time in!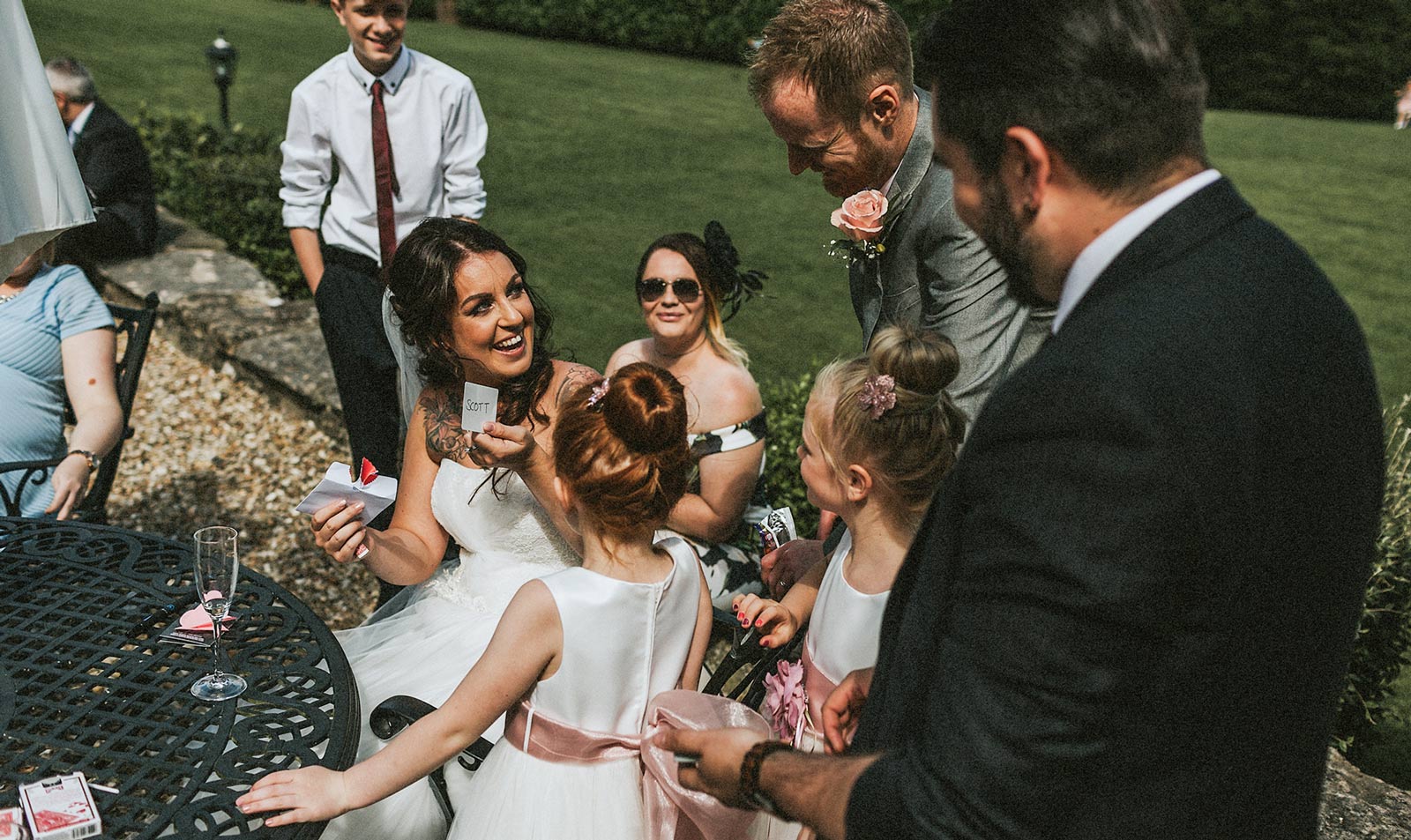 Allow 1 ½ to 2 hours for your drinks reception as this will give your photographer plenty of time for your group and personal portrait shots. It will also give you enough time to mingle with your guests and enjoy your canapés and bubbles.
Andy's Top Tip
–
This is one of this 'lull' times for your guests. A lot of them will be peckish now and thinking of the meal. A great way to make this an enjoyable part of the day is to provide some entertainment.
(Or to make it an unforgettable part of the day – provide a magician !!)
Allow around 30 minutes for guests to move from the drinks reception into the Wedding Breakfast and find their seats.
Andy's Top Tip
–
Don't forget, your bridesmaids and groomsmen are there to help. They can direct guests, assist if you are having a receiving line and speed up any guests that can't tear themselves away from the prosecco and nibbles! (As the magician, this is a duty that I often assist with too!) I would HIGHLY recommend using this time for the pair of you to take a moment to yourselves. Breath it all in and be present in the moment.
Allow 30 to 40 minutes for your speeches. Try and stick to these timings as speeches that take any longer can result in fidgety guests and your evening losing momentum!
The best starting point when it comes to working out how much time to allocate for your Wedding Breakfast is to once again ask the venue
They will be able to give you a guide on how long they think their service will take depending on the number of guests, choice of food, number of courses, number of staff etc.
As a general guide allow around 2 hours for a 3 course meal.
All you have to do now is let your hair down and enjoy yourself right?
Hang on. Cake cutting and first dance too!
Try and do the cake cutting around 45 minutes after the end of the meal.
Andy's Top Tip
–
If you have evening guests attending, ask them to turn up at least 30 minutes after your wedding breakfast – if for any reason your wedding breakfast overruns the last thing you want is to have evening guests turning up whilst people are still eating! As I said, this is nothing more than a guide, and each wedding is going to be different, but hopefully this will at least give you a starting point. Adjust it to fit your specific day and have an amazing time!